CONSTRUCTION HOISTS COMBO
It is becoming more and more common to see two construction hoists working at the same time on the same mast. At ALBA, we offer this lifting solution, ideal for new construction projects and great restoration works.
Installing a COMBO of construction hoists means savings in money and time for the operators, since the operation of two different rack and pinion lifts makes the construction capacity increase, thanks to their different uses and applications.
Innovation in lifting equipment is advancing at great speed; the safety conditions of operators are improving, giving way to an optimization of work on the construction site, allowing to do tasks with greater agility and avoiding downtime.
What are the advantages of installing a COMBO of construction hoists?
✅ 2 hoists work on the same mast.
✅ It occupies less space than installing 2 machines separately.
✅ Loading capacity is doubled.
✅ Possibility of combining 2 different models with independent operation.
There are several combinations of construction hoists:
COMBO EDC 2000 + MC 2000
Gibraltar, 2021
For this set of 6 residential buildings 95 m high, the Hassan Centenary Terraces, a high load capacity was required. Therefore, our customer decided to install a COMBO consisting of a passengers and material hoist, the EDC 2000 model, and the MC 2000 material hoist to transport drywall. Both machines are lifted by the same square mast, which makes the COMBO take up less space than installing 2 hoists separately.
📷 Click here to see more images of this project.
COMBO PT 1800 + EDC 1600 XL
Barcelona, 2022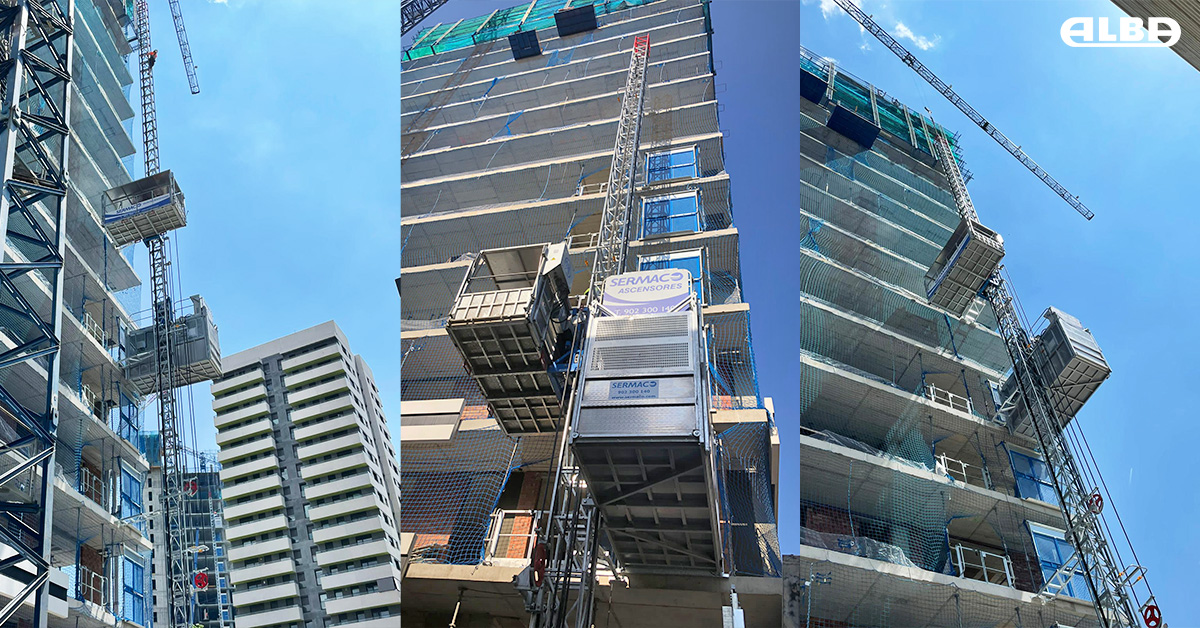 Our customer has installed, in this building of Barcelona, a COMBO made up of the PT 1800 transport platform and the EDC 1600 XL passengers and material hoist, thus optimizing the space on sitework.
The PT 1800 model has a load capacity of 1.800 kg and the possibility of incorporating a third loading door, so it is suitable for lifting drywall.
The EDC 1600 XL is also used to lift personnel and material up to 2.000 kg and it reaches a height of 250 m at a speed of 60 m/min. The system is available in a double cab and it has floor call control with memory.
---
Don't hesitate to tell us the characteristics of your project and we will offer you a service adapted to your construction needs.
bcbsbfberbfvbdfjbvjbdvfkjbdojbvfo
---