Since this year 2023, we are IPAF (The International Powered Access Federation) members.
It is an organization made up of construction companies, which promotes the effective and safe use of motorized access equipment worldwide.
🏗 As leaders in construction machinery, we know and defend safety in work at height in the first instance.
👷‍♂️ This allows us to continue working hand in hand with all members of the sector to promote the manufacture of safer and more useful hoists.
👍 We thus support the creation of new regulations in favor of safety in lifting equipment.
What is IPAF?
IPAF is a non-profit organization owned by of manufacturers, rental companies and distributors in the construction sector, among others.
The International Powered Access Federation (IPAF) "promotes the safe and effective use of powered access equipment worldwide in the widest sense – through providing technical advice and information; through influencing and interpreting legislation and standards; and through safety initiatives and training programmes".
The PMH shortlisted for the IAPA "Product of the year" award
On April 20, the IAPA (The International Awards for Powered Access) awards gala, organized by this federation, took place in Berlin (Germany). They are the most prestigious and respected in the powered access industry and are held in the evening, after the IPAF Summit.
In this event, companies from the sector gathered to witness the voting of a group of judges who determined the winners of different categories.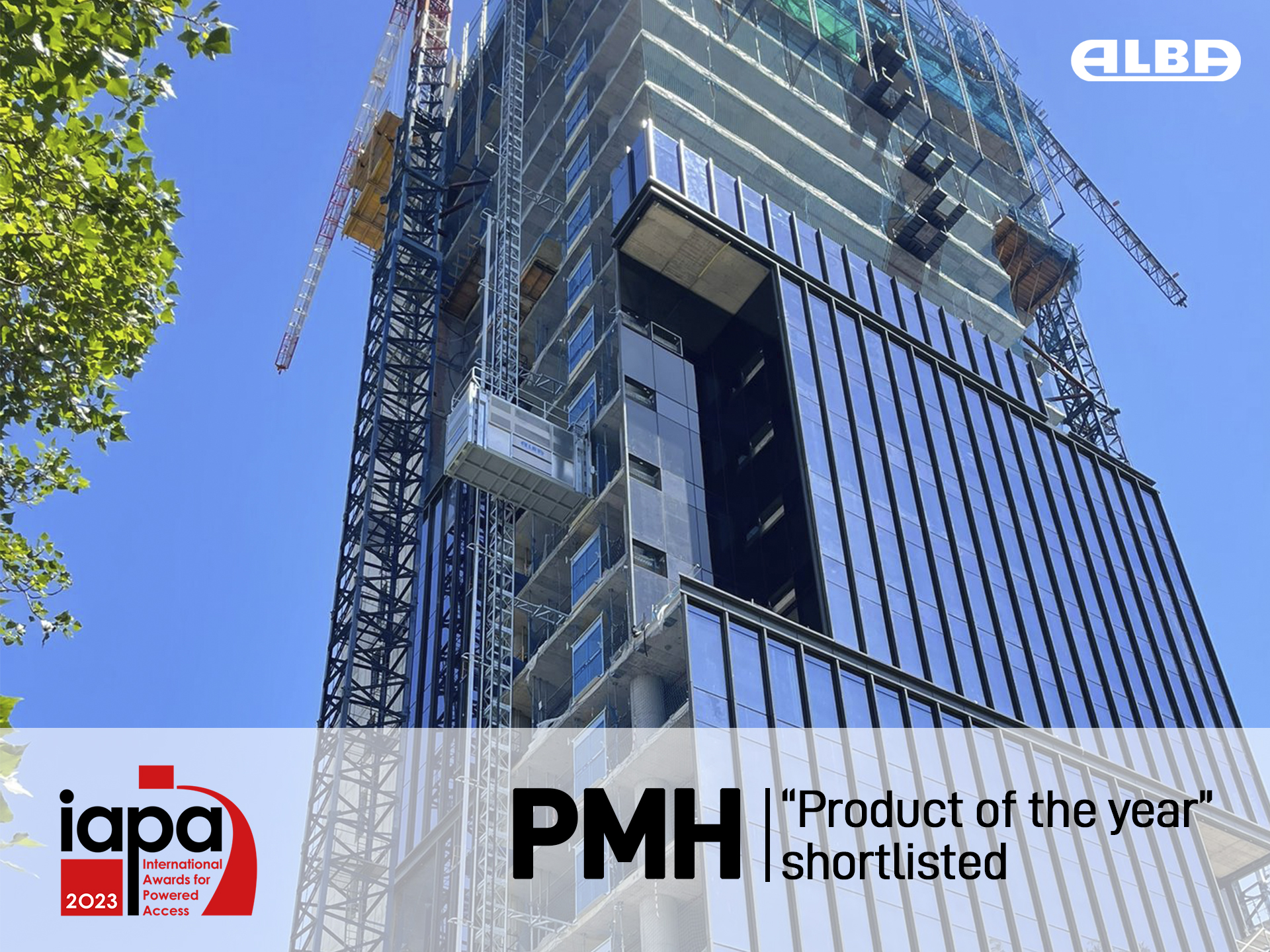 Alba-Macrel Group was nominated along with 3 other rack-and-pinion manufacturers for its highest capacity construction hoist, the PMH.
This high-performance passengers and material hoist is suitable for large-scale buildings. With a capacity of 3.200 kg, it is available in several cabin sizes and has advanced technology with remote connection for management and diagnosis. To double its capacity, an additional cabin can be installed on the same 650 square mast. It is a model created specifically for this hoist, compatible with other brands equipment.
Being nominated with other international companies is an honor for us. And it is that having been selected to compete for this award among all the manufacturers of construction hoists, mast climbers and transport platforms allows us to continue trusting in our work, always based on quality.
Despite the fact that this time we did not take home the award, the Alba-Macrel Group team continues to work every day to create high-performance machines, always supporting their safety and safe use.