How to maintain your masonry saw
Our wet cut masonry saws are easy-to-use electric machines, suitable for working on construction and building restoration works, guaranteeing speed, comfort, precision and cleanliness in the cutting of parts without causing deformation or material damage.
Their features and high performance allow to work efficiently a wide variety of high-hardness materials without being affected by humidity, such as marble, granite, bricks, tiles, porcelain tiles and ceramics, among others.
Wet cutting tables facilitate tasks that would take a long time if done by hand. And, as we say, their use is simple: you just have to fill the water tank completely and make sure that the machine can be plugged safely into an outlet and that it works correctly. The diamond blade cools on both sides, dragging the dust into the tray in order to avoid creating dirt in the environment.
In addition, our diamond blade cutting equipment is designed in accordance with European standards and under safety standards.
TVD model TVR model
PARTS OF A MASONRY SAW
The TVR model consists of a fixed cutting table with a slot in the board where there is a diamond blade, a guide rule for longitudinal cuts and several safety devices.
Fitted with single-phase or three-phase motors, this tool can be ordered with a motorization that allows its use anywhere in the world.
The mitering operation can be performed at any angle between 0 and 45º, and the piece could equally rst at either side of the carriage, as this carriage has only one cutting slot. It also allows to regulate it in height, even when the head is in the mitering position, without the need to de-center the cutting line and adjusting the material for comfort and ergonomics.
The TVD put together all the advantages of the TVR model, with larger dimensions and it is fitted with an extremely robust and height-adjustable head, which makes it suitable for accurate works, especially hard works with very long pieces.
bcbsbfberbfvbdfjbvjbdvfkjbdojbvfo
HOW TO CORRECTLY MAINTAIN OUR CUTTING SAWS
Our machines are designed for easy maintenance, focused on saving time and money. However, in order to ensure a long and useful life, it is necessary to make good use of them, so that they are safe and avoid possible accidents in the future. Especially when there are obvious signs of wear or damage.
Therefore, in addition to checking the main parts of the masonry saw (diamond blade, cutting table and all safety devices) each time it is used, it is essential to carry out constant care. Here are some guidelines and tips:
After you have finished using it and turned off the engine, you will need to unplug the power cord from the outlet, keeping it away from the cutting area.
The maintenance and correct position of the cutting blade influences the quality and speed of the work to be done. So if it is deteriorated, it must be replaced with a new one.
After each work cycle, thoroughly clean the machine and all its parts, especially the water pump. To do this, you can put it in a bucket of clean water for 5 minutes. It is convenient to change the liquid every day.
Grease the moving parts weekly with oil and/or grease.
And finally, we suggest you to store it in a suitable place, without damaging the wheels and folding legs if it has them.
vvvvvvvvv cc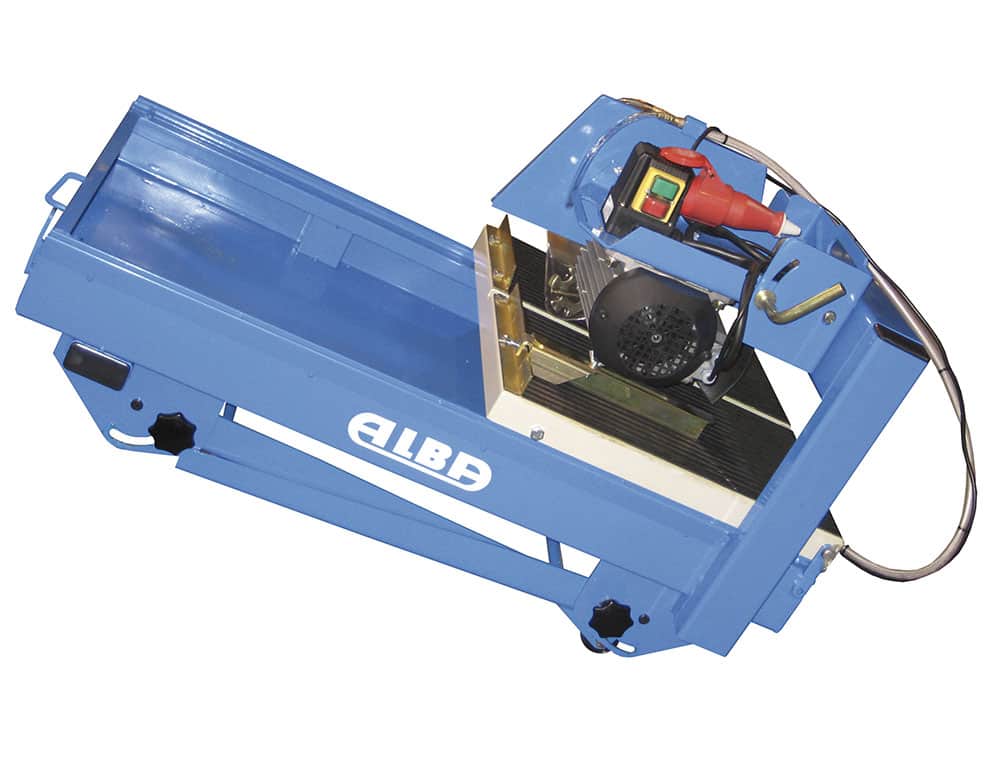 Download here the technical sheet of TVD and TVR models for more information.