HOISTS FOR TUBULAR SCAFFOLDING
Tubular scaffolding allows users to work safety and stably at height in construction projects, industrial projects and smaller volumes, such as restoration works of facades or home renovations.
At ALBA, we offer hoisting solutions adapted to multidirectional scaffolding, like our passengers & material hoists.
Read on to see which equipment suits the best to your needs.
👇👇👇
Operator health and safety
First of all, safety at work is essential for the user who works at height. In addition, carrying heavy loads for many years has a negative impact on the health of employees, which can lead work absenteeism. Therefore, security standards must be met and money should be invested. At ALBA, we provide optimal lifting solutions and the best quality in all our products. Our brilliant track record in workplace accidents ensures superior safety quality.
Efficiency
Vertical transport on worksite has to be quick and easy. Executing tasks with greater agility increases economic and time savings.
An adequate equipment allows an optimization of the performance of the personnel avoiding downtime. Our passengers and material hoists for tubular scaffolding work at two speeds, being able to transport up to 1.800 kg of load at 120 m in height.
But… which hoist should I acquire?
We show you down below the suitable hoists to install in the tubular scaffolding, in order of load capacity:
>> MC 250 Material Hoist
The MC 250 model, with a capacity of 250 kg, is especially suitable for installation inside tubular scaffolding, being compatible with all brands on the market. It can reach up to 70 m in height at a speed of 20 m/min and it requires quick and easy assembly and minimal maintenance.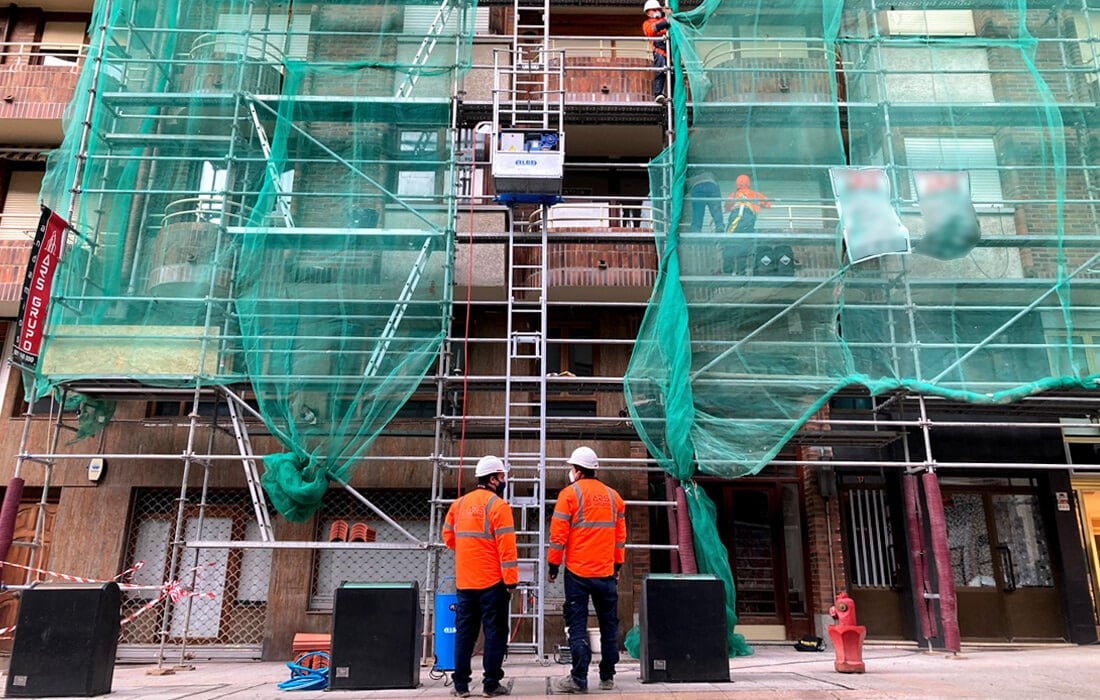 This material hoist can be equipped with different interchangeable carriers, depending on the type of loads to be lifted or the needs of the work: the standard and the easy-access carrier allow goods to be transported to the different floors of the multidirectional scaffolding and the system scaffold transport cage is used both to raise materials inside the scaffolding and to install the structure itself.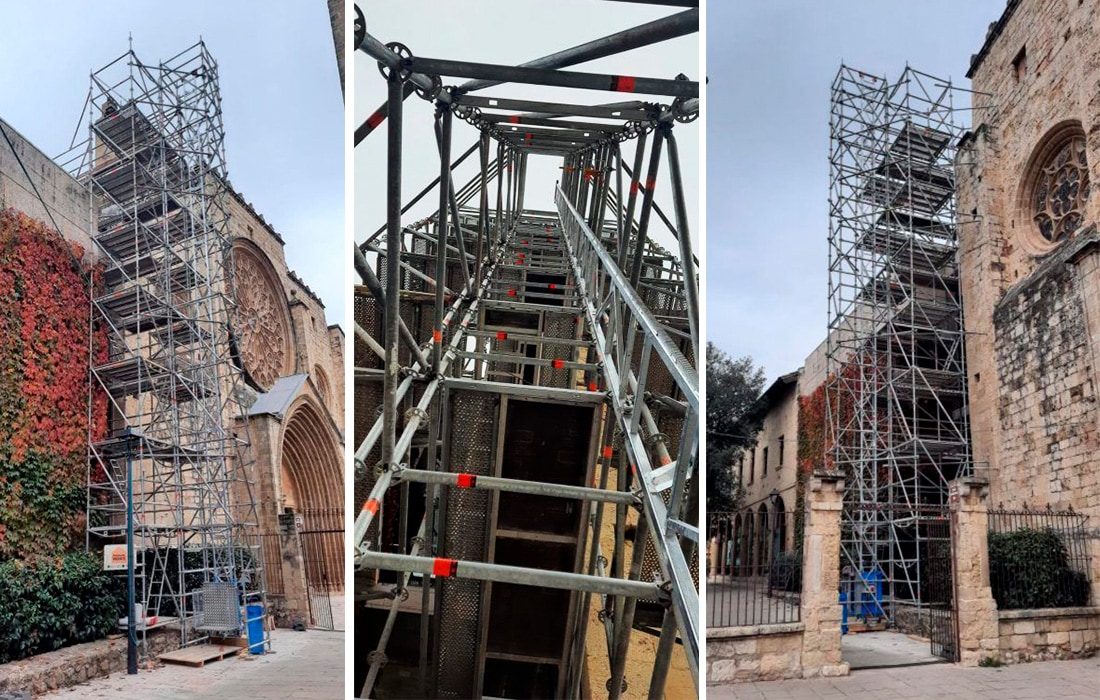 This type of hoist is mostly used in building rehabilitation and restoration works, where roofers and painters flexibly and efficiently transport materials on scaffolding, such as paint and insulation supplies, roof tiles, etc.
ℹ You can read more about this model by clicking on this link.
bcbsbfberbfvbdfjbvjbdvfkjbdojbvfo
>> MC 1000 Material Hoist
The MC 1000 model is a very versatile material hoist, since it can be used to lift material up to 1.000 kg both in new construction and rehabilitation, reaching a height of 120 m.
Suitable for transporting drywall (MC 1000F version), this hoist is lifted by a triangular mast, compatible with the PEC 120 mast climber and the PT 1200 and the EPM 1000 passengers and material hoists, which are the models that we discuss below.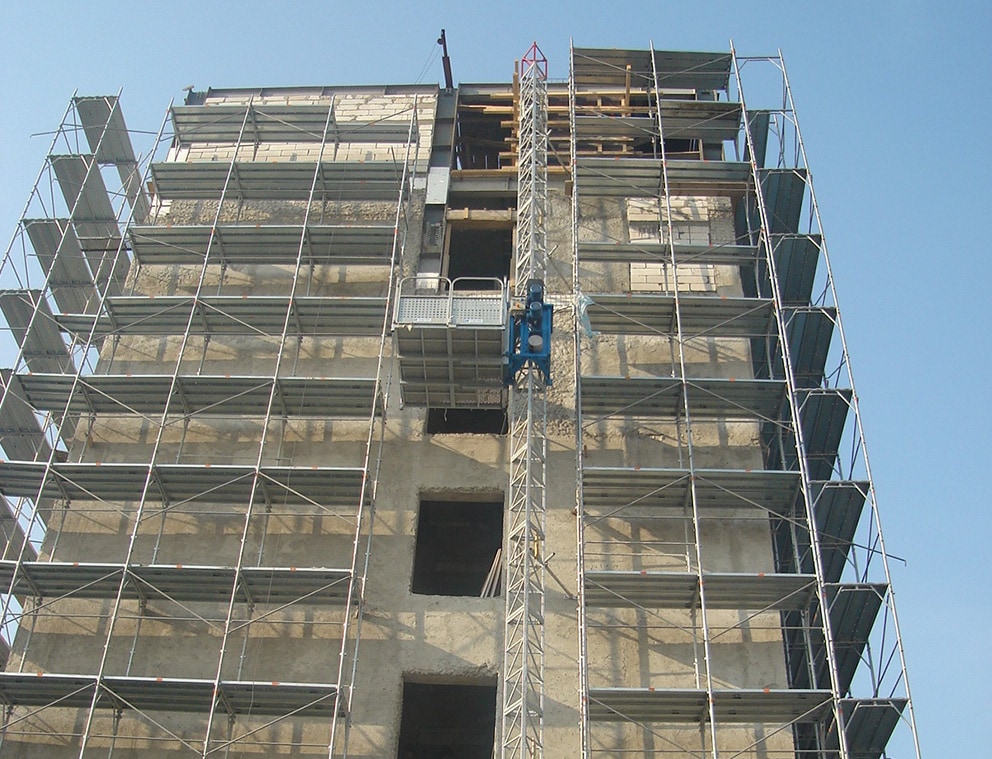 📖 Click here to see all the features of the MC 1000.
By investing a bit more, we can opt for the range of personnel and goods hoists, that have numerous advantages in terms of efficiency. In addition to materials, these construction lifts can transport people at the same time, so they can be installed in works where access to the building is outside, thus avoiding interfering with the tasks carried out inside or climbing the scaffolding itself.
They are designed for higher load capacities and are ideal for larger scaffold structures.
>> EPM 1000
The EPM 1000 model, compact, with a high load capacity and easy to install, is suitable for small spaces. It rises through a triangular mast, like the MC 1000 and the PT 1200 models, and it features optimum quality at an unbeatable price. Its call control system between floors gives it high performance. In addition, we offer a version for lifting drywall with a slightly longer cabin.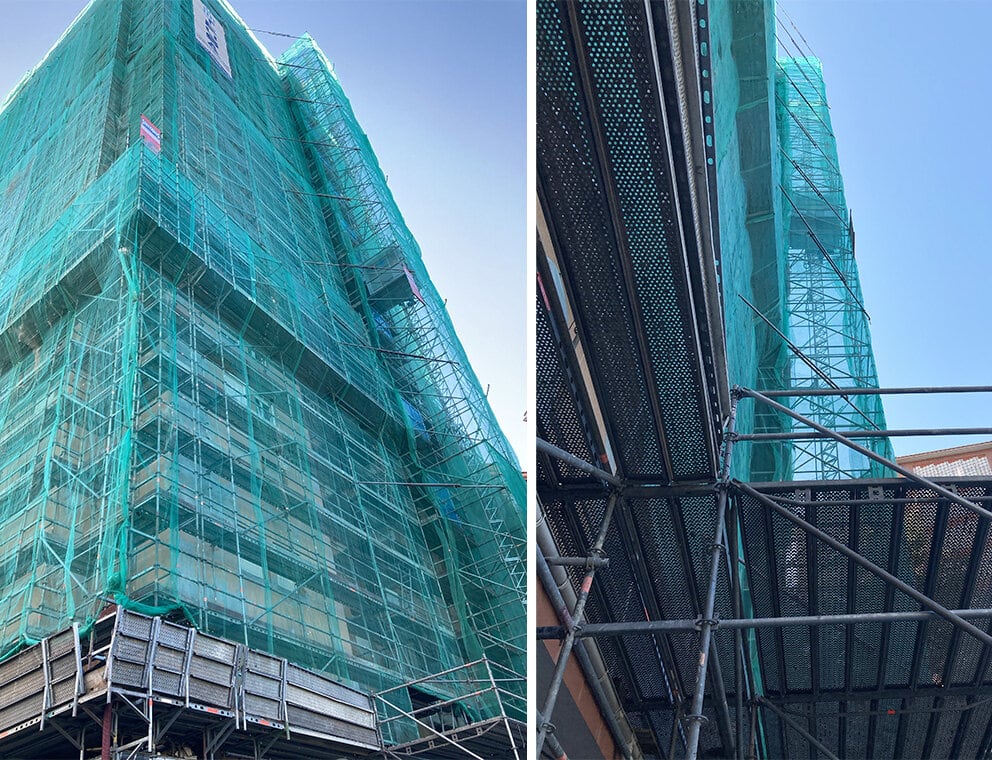 📖 Click here to see all the features of the EPM 1000.
bcbsbfberbfvbdfjbvjbdvfkjbdojbvfo
>> PT 1200
The PT 1200 Transport Platform for passengers and material with a semi-open cabin is ideal for medium-sized buildings and large restoration works. This model is also available in a specific version to transport drywall (PT 1000F) and can be installed in refinery projects, like the one we see in the following images.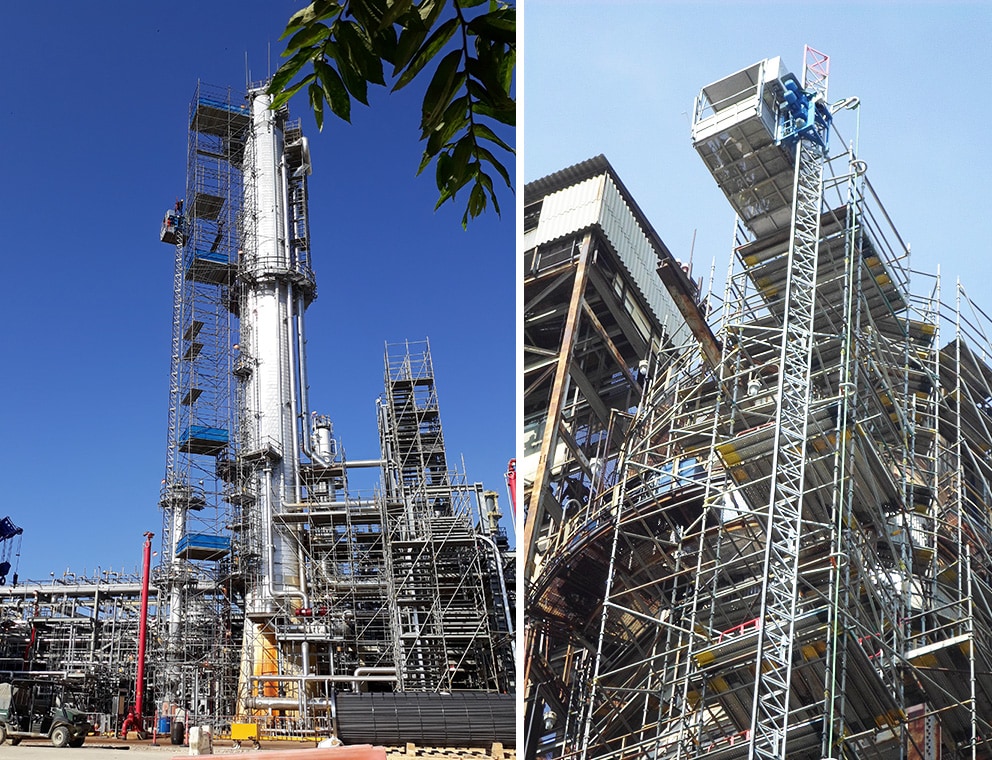 📖 Click here to see all the features of the PT 1200.
---
Don't hesitate to tell us the characteristics of your project and we will offer you a service adapted to your construction needs.
bcbsbfberbfvbdfjbvjbdvfkjbdojbvfo
---